The animals will live!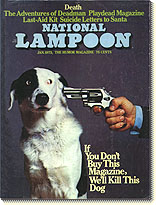 Bob DeLeo buckles first.
... Hub Blog is with
Outraged Liberal
: "Whoever does PR and legislative relations for Zoo New England deserves a raise." ... I'm wondering why someone at the BPD didn't suggest a similar tactic before the horse unit was disbanded.
Sorry, gotta kill 'em!
... Struggling newspapers might give the tactic a try. Why not? Nothing else has worked.