'Inverse Marxists'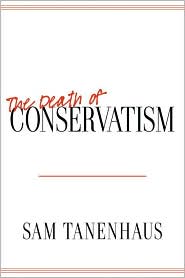 Hub Blog recently finished Sam Tanenhaus's new
'The Death of Conservatism.'
The much-anticipated HB rating: Thumbs up, with caveats. Now the mini-review:
Tanenhaus is, it's fair to say, a moderate liberal with deep respect for intellectual conservatism and its role in American democracy, particularly its role in counter-balancing liberalism when it radically and recklessly lurches too far to the left, like it did in the '60s and '70s.
Tanenhaus's warts-and-all descriptions of Edmund Burke and other conservatives (William F. Buckley, Whittaker Chambers, James Burnham, Garry Wills and even neo-con/neo-liberal Daniel Patrick Moynihan) are simply first-rate.
He rightly observes that the rise of American conservatism in the '60s coincided with the intellectual decline of an American liberalism that too often refused to stare realities in the face – from ill-conceived welfare programs to soft-on-crime policies that infuriated centrist Americans who craved law and order in its most sensible forms.
He also rightly observes that the decline of American conservatism began once it discarded the pragmatic Burkean philosophy that change is inevitable and not always unwelcome -- such as establishment of Social Security, Medicare, basic environmental protections and other successful and popular government programs.
The conservative death watch, Tanenhaus effectively argues, intensified as its principles increasingly became subordinate to hyper-partisan "movement" battles of the day. American conservatives have refused to stare at their own realities in the face – from sticking their heads in the sand when a full-blown insurgency erupted in Iraq to denying Wall Street's role in its own meltdown.*
One of my favorite Tanenhaus lines comes toward the end of the book, when he discusses the rise or Rush et gang and the promotion of partisanship over principles: "They not only abandoned Burke. They had become inverse Marxists, placing loyalty to the movement above their civic responsibilities."
Inverse Marxists. It's perfect. It's much better than my strained mirror-image references.
But the book suffers from a number of things (in no particular order):
-- Tanenhaus seems, at times, baffled that any reasonable person would initially resist many liberal ideas, as if the primary role of conservatism is to act as pooper-scooper for liberal programs. The first few chapters of 'Death of Conservatism' were almost pure liberal CW. The book finally took off after he got into Burke.
-- Tanenhaus's suggestion that liberalism is more "consensus" driven is historically dubious, especially when so many liberals today are still pushing a single-payer health system that's been repeatedly rejected over the decades and that's consistently served as an obstacle to universal health-care compromise.
-- Tanenhaus's biggest mistake was not delving deeper into the religious motivations of many American conservatives, something I, as a true burn-in-hell cafeteria Catholic, initially didn't catch until Reader No. 1 pointed it out to me in an email (he read the book at the same time as yours truly).
But the strengths of Tanenhaus's book outweigh the weaknesses. There was only so much he could say in 118 pages (the book was an expansion on a prior New Republic article). So Tanenhaus, editor of the NYT Book Review section, can rest assured that his book has gotten a much coveted thumbs up from mighty Hub Blog.
*My examples of intellectual rot, not Tanenhaus's.
P.S. -- Some conservative publications are paying
respectful attention
to 'Death of Conservatism.'